All of us want to find time in our busy lives for service projects. We know how important it is to teach our children the valuable lessons that go along with serving others (empathy, kindness, gratitude, courage, selflessness etc.) but unfortunately those well meaning service projects are the first thing cut off the to-do list when life gets too hectic.
Here are 10 QUICK service projects that you can do with your kids TODAY, with items you have around the house. All of them can be completed in under an hour. I hope that this list inspires to you start a service project TODAY and learn as a family the valuable lesson of serving others.
Project Dollar Store--This is a family favorite and a project we do at least once a year. A dollar may not seem like much but this simple project can make a big difference in someone's life.  Click HERE to learn more about this SECRET MISSION OF LOVE!
2.  Project Appreciation--For this SWEET project you need to gather everyone in the kitchen and think of a community group that you would like to thank.  Click HERE for more details about this MISSION OF APPRECIATION.
3. Make Placemats for Meals on Wheels–This is a project for all ages (well anyone who can hold a crayon or paint brush). First, click on the Meals on Wheels website and contact your local Meals on Wheels. Ask them if you and your family could make placemats for their clients. We have done this and it is an easy and fun service project. Gather some thicker paper (we used card stock) and some art supplies. My Kids Community Service club has done this a few times and all of the children (ages 2 and up) colored happy pictures to make the seniors smile while they ate their lunch. I mailed in our placemats but Meals on Wheels is always looking for volunteers to help deliver the lunches (and kids are welcome to participate). If you homeschool, have younger kids or are looking for a summer project, contact your local Meals on Wheels about donating your time.
4. Make a Kindness Jar--This is the Kindness Jar that sits near our dining table. My children made it with our kids community service group last winter and it is always out as a constant reminder to think of others and BE KIND. Click HERE to learn how you and your family can make your own Kindness Jar. The post includes a FREE Printable of Kind Deeds to fill your jar with.
5. Collection for the Homeless–People who are homeless are always in need of gently used clothing (especially warm clothing in the cold winter months), new toiletries or toys that are in good shape. Give everyone in your family a bag or a box and challenge them to fill it with as many quality items as they can. Once you fill your bags or boxes drop them off at the local homeless shelter. This service project is not only helping people in need but it is also challenging the family to declutter. This is a win-win in my book!
6. Clean Up Your Neighborhood–Grab a few trash bags, some work gloves and head out in your neighborhood or to your local park. It always SHOCKS me how careless people are with their trash. My husband does a mini clean up of our street with the kids once a month because of all the trash that the passing cars leave behind. This is an easy and important service project for your community.
7.  Make a Christmas Jar–This project can be done at ANY TIME of year.  We started our third Christmas jar right after Christmas but our first jar was started only a month before the big day.  Click HERE to learn about this WONDERFUL family project.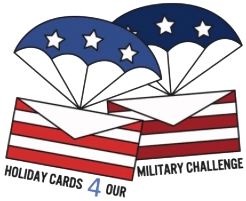 8. Create Holiday Cards for the Military-This project is so easy to do and younger kids can team up with older kids or parents to make this a family project. If you know someone in the military, consider making writing letters to them a regular activity. If you do not know someone in the military, consider writing letters and sending them holiday cards through Holiday Cards 4 our Military Challenge. This group has sent over 500,000 cards to military from kids all over the country.
Card collection deadlines are at the end of October but it is never too early to start making and sending cards. Check out their website for more information.
9. Project Sticky Note–This is such a fun and simple project. All you need are some sticky notes and writing tools. Write a lot of different uplifting messages on the sticky notes ("You are Special", "You are Loved", "You are Beautiful", etc.). Now comes the fun part, put the sticky notes in places where you think people may need an uplifting message. We have hid them in library books, hung them on mirrors in public restrooms and put them on car windows on a dry day. You can have the kids hang them on school lockers or even hand them out to people who look like they may need a pick me up. My husband often leaves us sticky notes if he is going away on business. It always makes us smile to find the notes of love and encouragement. The key to this project is to make sure that you do not litter and that you are always respectful.
10. Write a Thank You Note--Have you thanked your parent or care giver lately? Have you thanked your teacher, your coach, bus driver or librarian for all they do for you? Did you recently receive a gift? EVERYONE loves mail! Bless one or more people in your life with a card or note thanking them for all they do to help and support you. This is a project for all ages, as the littles can draw and adults can scribe the note of thanks and gratitude. Make writing thank you notes a regular practice in your home. This simple activity will teach an important lesson in gratitude, respect and connection (not to mention it will help them practice their writing).